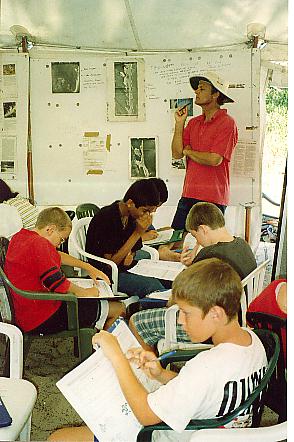 Poster display in the eating tent.
Moreton Experience Field Book
A 20 page field book is provided to each student. Topics include; map, dune plant communities, birds, mammals, useful native plants, exotic plants, feral animals, rocky shore animals, behaviour of freh and saltwater when in layers, Nughi people, early Europeean history, and a time line.
Teachers are encouraged to work with students on topics of interest to them and their students.
During excursions away from camp I introduce students to relevant sections of the book.
The Reluctant Explorers
The timbergetters, Phamphlet, Finnegan and Parsons were shipwrecked at Spitfire Creek in 1823. A narrative of their ordeal was recorded after their rescue by Oxley. A class set of an illustrated, abrdged version of this narrative prepared by Moreton Experience is read at Spitfire Creek.
Cape Moreton Interpretive Centre
Includes hands on displays, early european history, natural history of Moreton Island.
Aquariums
Salt and freshwater aquariums are stocked with animals stranded on the beach and in drying pools.
Video
A short video is used to introduce the many parasitic plants seen on the Lake Honeyeatr walk.
Poster Display
Posters complementing the Field Book line the walls of the eating tent. Students in their free time and whilst waiting for meals often read these displays.
Slide Presentation
An optional night activity for the 5 day camps is a slide show given by Alan.
Moreton Island
The best best educational resource – Moreton Island as is!